Open the wrong door at Totentanz… 
You'll be greeted by a truly nightmarish sight: Twenty fierce Maelstromers eye you with red optics like predators on the prowl.
This poster captures that moment in all its terrifying glory. It's perhaps the grimmest home decoration we can offer — we recommend not displaying it in your bedroom.


Details:
The premium variant of the poster was created with the most advanced technology of 2077 and is a Giclée-graded collector's item for discerning connoisseurs of art. 
This poster is printed with long-lasting pigment inks on high-quality 230 gsm professional matte paper, which is archival-stable (DIN ISO9706) and has a beautiful warm tonality. 
The product is sold frameless in a tempered protective tube.  


Dimensions:

20"x30" (50x70cm)
Check out more gear:
Cyberpunk Gear Collection
CD PROJEKT RED Posters
CD PROJEKT RED Art
CYBERPUNK 2077 NIGHT CITY GANGS MAELSTROM PREMIUM POSTER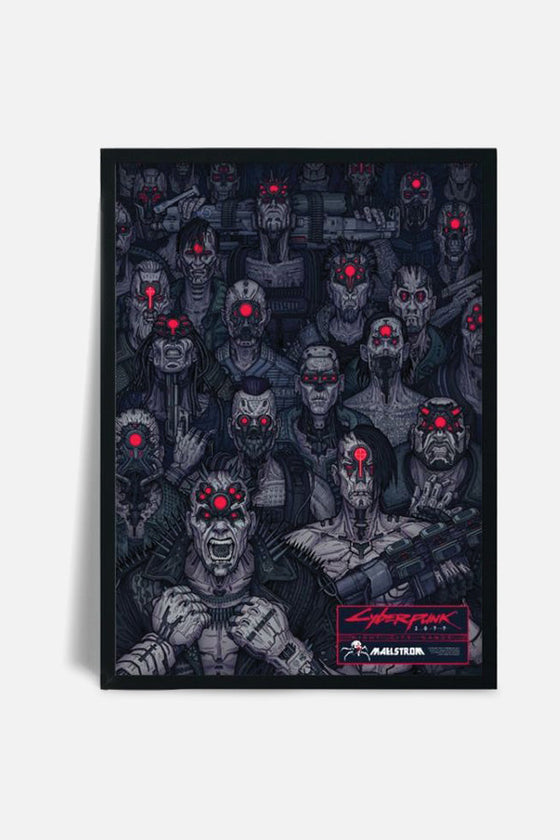 CYBERPUNK 2077 NIGHT CITY GANGS MAELSTROM PREMIUM POSTER
Added to cart
Subtotal
Go to cart