More than a lifestyle 
Somewhere between excessive parties, street parades, drag races, and far, far too much booze, the Valentinos hang out in the barrio beneath the watchful eye of Santa Muerte. 
If you're interested but don't want to embrace this lifestyle just yet, this poster is the next step in the right direction — bring this party right home, but leave the hangover and criminal record behind.


Details:
The premium variant of the poster was created with the most advanced technology of 2077 and is a Giclée-graded collector's item for discerning connoisseurs of art. 


This poster is printed with long-lasting pigment inks on high-quality 230 gsm professional matte paper, which is archival-stable (DIN ISO9706) and has a beautiful warm tonality. 
The product is sold frameless in a tempered protective tube.
 Dimensions:  50.8 x 76.2 cm (20"x30")
Check out more gear:
Cyberpunk Gear Collection
CD PROJEKT RED Posters
CD PROJEKT RED Art
CYBERPUNK 2077 NIGHT CITY GANGS VALENTINOS PREMIUM POSTER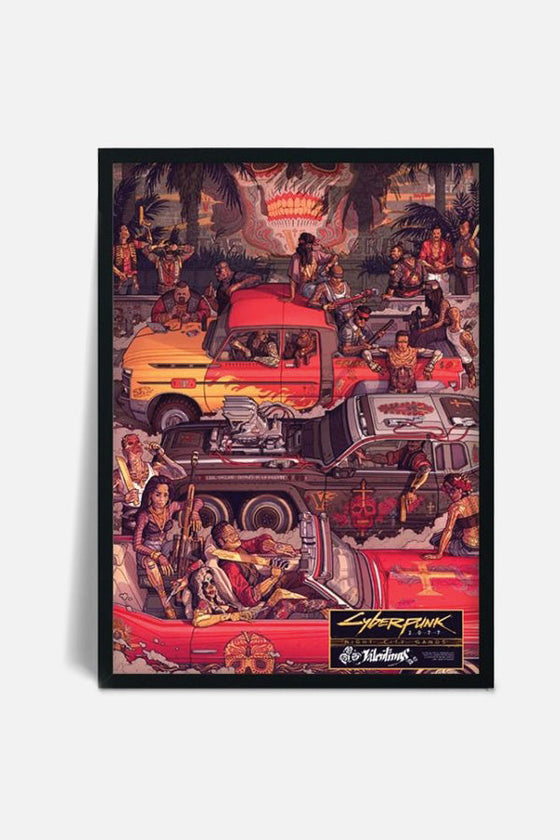 CYBERPUNK 2077 NIGHT CITY GANGS VALENTINOS PREMIUM POSTER
Added to cart
Subtotal
Go to cart