Art of the Future
Get ready to glitch into the neon-soaked universe of Cyberpunk: Edgerunners with our mind-bending lithograph of the kickass duo, David and Lucy.
Crafted on 12 pt. Rainbow Holographic Brilliance Film, this lithograph by Studio Trigger is bursting with cyber-enhanced colors that'll transport you to the vibrant streets, dark alleys, and glitchy reality of Night City.
The full bleed design ensures that David's cyber-enhancements and Lucy's edgy attitude leap off the frame, while the glassine paper packaging keeps it safe in your collection.
Sized at a stunning 45.7 cm x 61 cm, this isn't just an art print; it's your personal access key to the realm of edgerunning, cybernetics, and spine-tingling action. So grab it, jack in, and let the neon dreams wash over you.
Details:
David and Lucy Lithograph by SUSHiO from Studio Trigger
Size: 45.72 cm x 60.96 cm (18"x24")
12 pt. Rainbow Holographic Brilliance Film
Full bleed
Packaged with glassine paper
Open Edition
CYBERPUNK EDGERUNNERS DAVID AND LUCY LITHOGRAPH BY STUDIO TRIGGER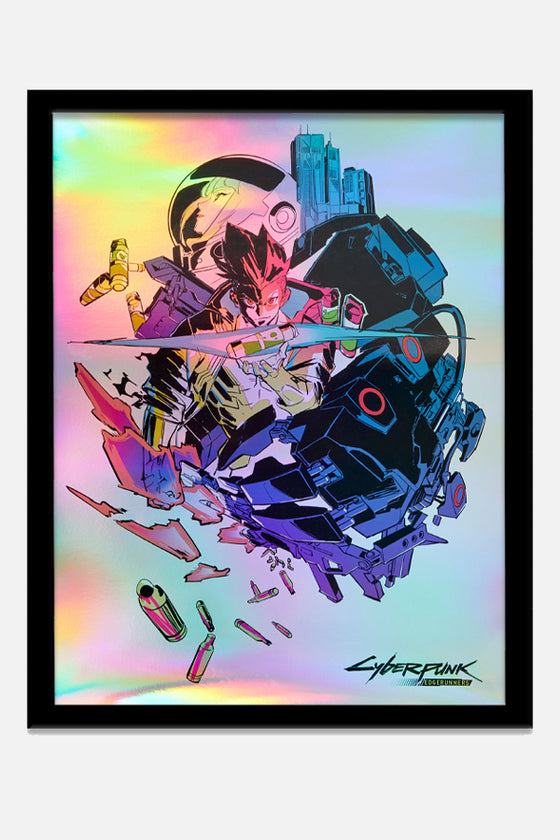 CYBERPUNK EDGERUNNERS DAVID AND LUCY LITHOGRAPH BY STUDIO TRIGGER
Added to cart
Subtotal
Go to cart